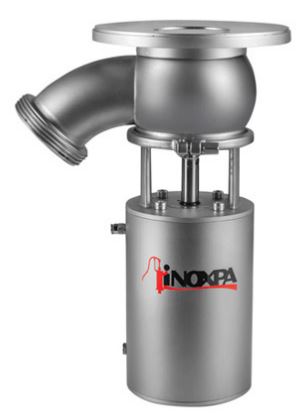 The INNOVA F valve is a shut-off single seat valve designed specifically for installation at the tank bottom for use in hygienic applications.
Design and features
More compact space-saving design.
Specific body with a welded flange.
45º elbow outlet to enable welding.
Opening towards the inside of the valve.
Radial type seal design.
Single-acting actuator.
Normally closed valve.
Open lantern allows visual inspection of shaft sealing.
Materials
Parts in contact with the product AISI 316L (1.4404)
Other stainless steel parts AISI 304 (1.4301)
Gasket EPDM
Surface finish:
Internal Bright polish Ra ≤ 0,8 μm
External Matt
Available sizes:
DIN 11850 DN 25 – DN 100
ASME BPE OD 1″ – OD 4″
Connections: Weld
Options
Manual actuator.
Gaskets: FPM, HNBR.
Other connection types.
C-TOP and C-TOP+ control units.
External position sensors.
Surface finish: Ra ≤ 0,5 μm.